FAQ
FAQ (Frequently Asked Questions)
Q: What's Mink Hair?
Mink Hair is the most sought after texture on the market right now. This mink hair is used extensively for its silky, softness, durability and density (thickness). Each selection has been collected from one donor, all cuticles of which are intact and aligned, and it's very easy to find a natural taper at the end of our virgin hair. Our hair can be used for 1-2 years or even longer if taken good care of.

Q: About Us?
We are the only vendor selling the real 10A 12A grade Mink Hair and possessing so many styles of 3D 4D 5D 6D Mink Lashes in the market.

We Are a Real Mink Hair Vendor And Real Mink Lash Vendor in China with Customers across the World. Our 100% Human Unprocessed 10A Grade Mink Brazilian Hair is The Highest Quality Hair Extensions in The Market.

Q: What's Drop Shiping?
Drop Shipping is our special service. There is no extra fee for drop shipping and no more costs for upfront inventory or shipping logistics.
With dropshipping, products are sent directly from us to your customer.

Step 1
Your customer places an order from you

Step 2
You send the order to us or you order on our website directly.

Step 3
We prepare your customer's order without putting our labels on
or with your own wrap labels/bags/cards attached

Step 4
We ship the order directly to your customer. And then we will send you the tracking number.

Please note: If you order online, pls operate in the same way as we used to do, but enter your customer's shipping address and please make sure to add his/her address to your PayPal Account as well.

What's more, we can help you make your own bundle wrap labels, tags, satin hair bags, satin bonnet and head bands. Please Click.


Q: What's Mink Hair Weave Wholesale Price?
All products we post on our website are at the best wholesale price for drop shipping. Everyone enjoys One Bundle Free Shipping.
If you would like to buy in bulk, such as over 10 bundles, please contact our salespersons for more favorable price.
check here.


Q: Can I enjoy Free Shipping?
Sure dear, all of our bundles/wisg are free shipping now.


Q: What's The Minimum Order Quantity?
Minimum Order Quantity is 1 bundle/piece Free Shipping.


Q: How to make Sample Order?
Yes, all products on our website are at wholesale price and our Minimum Order Quantity is 1 bundle/piece free shipping.
Everyone enjoys wholesale price no matter how many bundles you order.

You can order 1-3 bundles to test the quality, which is a common practice for most of our new customers before they buy in bulk.
Besides, we can also offer custom service for creating your own wrap lables and send you pictures without our watermart attached.


Q: How to Place/Pay for Orders?
Please Check This Link:

Place/Pay for Orders




Q: How to Pay and Do we Accept Credit Card/Debit Card?
We Accept "PayPal Checkout". Please Register a PayPal Account first and then Add a Debit Card/Credit Card to Pay.
PayPal is a faster and safer way to pay online. What's more, we accept Western Union as well.


Q: What Can I Do If My PayPal Payment Not Go Through?
No worries, it happens. Please send your order to our Salespersons and we will send you paypal link to pay.



■

Jayda:
Email:

[email protected]


WhatsApp/iMessage:

008613719074680
Q: When do you ship my order out? How many days does it take to arrive?
Orders will be shipped by FedEx within 48hours after payment.
And it usually takes 3-7 working days to arrive after shipment.
(Orders are typically processed and shipped on the same business day if you order before 5pm (Chinese Time GMP+8). Otherwise, they will be dealt with on the next business day.)


Q: What's Mink Hair Reviews?
Please Check This Link:

Mink Hair Reviews





Q: Can I get a refund if I don't like the goods?
Yes dear you can, please check

REFUND POLICY




Q: What's Mink Hair Weave Refund Policy?
Please Check This Link:

REFUND POLICY
Q: I want to talk to somebody before I place order?
►Please contact our team:

■ Jayda:
Email: [email protected]
WhatsApp/iMessage: 008613719074680

Q: How Many Hair Bundles For A Full Head ?
3-4 bundles are recommended for a full head.

Pls note: The longer the hair the thinner the weft. If you desire your hair to be full with lots of volume, we suggest you purchase 4 bundles.

Below is a schematic drawing of different lengths and hair Textures.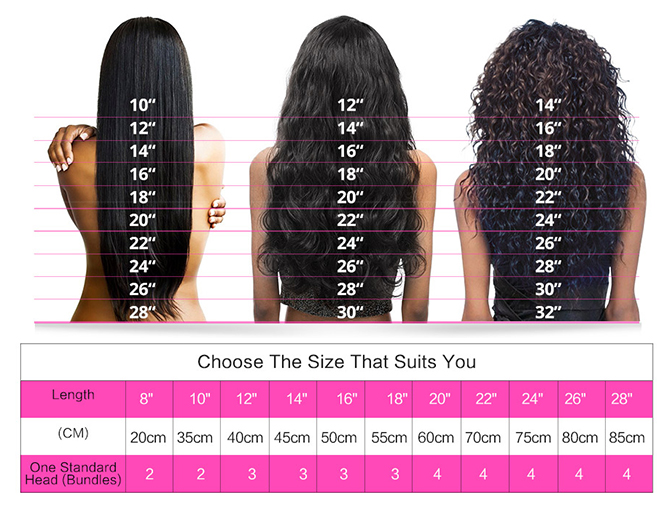 Q: What's 10A Grade Mink Brazilian Hair ?

Q: Why Are My Mink Hair Extensions Getting Tangled?
Your Hair Extensions might tangle due to dryness, oil & dirt build-up, salt water, chlorine and leaving your hair uncombed ( pls use wide tooth comb ). Make sure to wash & condition your hair at least once a week; it is better to do so twice a week. Use hydrating drops or consult your stylist for more help.
Q: Why Are My Hair Bundles Getting Shedding?
First, PLS comb the hair gently with your fingers or wide-tooth Comb to avoid the shedding. For curly hair, pls don't use the comb.
1. Please wash hair with hair conditioner. After washing the hair, please apply some hair oil to it so it will be silkier and softer.
2. comb it with wide-tooth Comb in a gentle manner so as to avoid shedding.
3. Too high heat may damage the virgin human hair.
Q: Could The Mink Hair Be Dyed And Iron-flat?
Our hair is 10A and 12A Grade 100% Human Hair, so it could be dyed or straightened. Pls keep the temperature lower than 150C when processing the hair. Otherwise, it will be destroyed. The hair will come back to its natural wavy after wash or iron-flat.





Q: How To Measure Our Mink Hair?