FAQ
FAQ (Frequently Asked Questions)

Q: What's Mink Hair?
►Mink Hair is the most sought after texture on the market right now. This mink hair is used diversely because of its silky, softness, durability and density (thickness). Each selection has been collected from one donor. All cuticles are intact and you will notice each selection of our virgin hair has a natural taper at the end. Long Lasting more than 1-2 years.

► We are the only one selling the real 10A grade Mink Hair and the only one who have so many styles of 3D Mink Lash on the market. .

►We Are the Real Mink Hair Vendor And Real Mink Lash Vendor in China, Our Customers Are All Over The World. Our 100% Human Unprocessed 10A Grade Mink Brazilian Hair is The Highest Quality Hair Extensions On The Market.



Q: How to do Drop Shipping?
►There are no additional charges for drop ship. Just order online the same way as usual, but add different shipping addresses for your customers. Drop shipping means we can ship the mink hair out with your own brand wrap labels to your customers directly, and your customers won't know we are your vendor, they only can see a FedEx/DHL office address. So please don't worry, we already help many many customers do drop ship. And you don't need to keep a lot of inventory of hairs. We will ship hair out within 48hours after payment.
►Wrap Labels only $39 make 1,000pcs. Please Check wrap labels


Q: What's Mink Hair Wholesale Price?
All Products We Post On Website are Wholesale Price. Minimum Order Quantity is 1 bundle/piece.
►Please Check This Link: Wholesale Price



Q: What's the Minimum Order Quantity
►Minimum Order Quantity is 1 bundle/piece.



Q: Can I Place Sample Order?
►Yes, our website is wholesale price, Minimum Order Quantity is 1 bundle/piece.



Q: How to Place Order?
►Please Check This Link: Place Order



Q: How to Pay, Accept Credit Card/Debit Card?
►We Accept "PayPal Checkout", Register a PayPal Account, you can Add Debit Card/Credit Card to Pay.
PayPal is the faster, safer way to pay online.
What's more, we accept Western Union/Money Gram/Bank Wire as well.



Q: What Can I Do If My PayPal Payment Not Go Through?
►Please don't worry dear, it happans. You can sent order to Kendra, she will sent paypal invoice to you.
Email: jen@minkhairweave.com
WhatsApp/iMessage: 008615913160643



Q: When you ship my order out? How many days reach me?
►Orders will ship by FedEx within 48hours after payment. And it usually takes 2-4 business days reach you after shipment.
Orders are typically processed and shipped the same business day if ordered before 5pm (Chinese Time GMP+8),
Otherwise the next business day.



Q: What's Mink Hair Reviews?
►Please Check This Link: Mink Hair Reviews



Q: Can I get a refund if I don't like the goods?
►Yes dear you can, please check REFUND POLICY



Q: What's Mink Hair Weave Refund Policy?
►Please Check This Link: REFUND POLICY


Q: I want to talk to somebody before I place order?
►Please contact our team:

2. Jayda (FAST RESPONSE)
Whatsapp/iMessage: 008613719074680
Email: jay@minkhair.com

3. Jennifer
Whatsapp/iMessage: +8615913160643
Email: jen@minkhairweave.com

Q: How Many Bundles For A Full Head ?
►For a full sew in we recommend 3-4 bundles.

►Remember: Longer the hair the short the weft. If you desire your hair to be full with lots of volume

Here are the picture in the length between difference hair Texture.





Q: What's 10A Grade Mink Brazilian Hair ?






Q: Why Are My Hair Extensions Getting Tangle ?
►Your Hair Extensions can tangle due to dryness, oil & dirt build-up, salt water, chlorine and not combing ( wide tooth comb ) out your hair daily Make sure to wash & condition your hair at least once a week, twice a week is better. Use hydrating drops or consult your stylist for more help.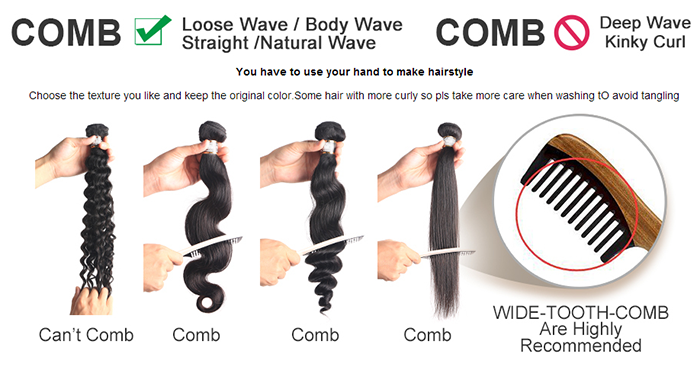 Q: Why Are My Hair Bundles Getting Shedding ?
► Firstly, PLS running the hair with your fingers or Wide-toothed gently, to prevent the shedding. For curly hair, pls don't use the comb.
1. Please wash hair with hair conditions. Aftter washing the hair, please nurse With some hair oil, then the hair will Be silky and soft.
2. Choose the wide-toothed comb; comb it gently, so as to prevent shedding.
3. Too much heat may damage the virgin human hair.
Q: Could The Hair Be Dyed And Lron-flat ?
►It is 10A Grade 100% Human Hair, so could be dyed and iron-flat, iron flat plz don't exceed 150C, or the hair will be destroyed. Also the hair will come back to its natural wavy after you wash it or iron-flat.
Q: How To Measure Our Hair?